As soon as we start talking about BANGLADESH FOOTWEAR industry, we start with a long list of personal, professional and industrial problems, mostly personal;
Long hours at low pay
Unpleasant ambience with inferior conduct
Dumb boss and his dumbest politics
Shipment pressure and godly buyer and many more…
I am going to use a technique called 5WHY. A simple way to ask questions to find the root cause; generally leading to surprising but very practical & efficient root causes. Here is an exercise to explain the method better,

Well, at Industrial level, I had difficulty to find a single important 'problem' of Bangladesh footwear. And that's where, rather than working on the daily-common-operational problems, I decided to start with a
common frustration-
"Why Big5 does not buy shoe from Bangladesh?"
Do we know this BIG5? They are the most celebrated sports brands of the world; i.e, Nike, Adidas, Puma*, New balance and Asics; controls more than 70% of sports-retail market. (*Puma India purchase approximately 0.5M prs of shoe for their India retail; not for international market.)
Why don't they buy shoes from Bangladesh? (will they ever buy?)
Let's find out.
Q1. Why Big5 does not buy shoe from Bangladesh?
All these brands are a part of FAST-FASHION family; And quick development is a part of their DNA; their survival instinct in fashion industry; None of these brands work with,
Factories who can't develop; and
Countries where development infrastructure is absent.
Today, how many of our factories got development facility in Bangladesh? 5? 10? How many got development ability of original designs? 1? 2? 4? What is our mould development lead time? By the way, when we are talking about development, I mean, *Collaborative OEM (Design co-developed with manufacturer) or pure *ODM (Original Design manufacturer).
And how many factories are keen to invest in Development facility? The general mindset of investors (seen by me) is, 'Development does not bring money, production does; 1 more pair out of line, few more $ of turnover, and few more cents of profit!'
'IS NOT IT CATERING WITHOUT A KITCHEN?'
ANSWER1: Because, Factories in Bangladesh can not develop original design
(exception does not represent an industry).
Q2. Why Bangladesh can not develop original (or, new) design?
Each of these 'why' may lead to numerous reasons. And probably, there is no single-right answer to these questions; I am trying to focus only on one major-single reason for now.
So, what RESOURCES we need to develop original and innovative designs?
We were talking about RESOURCES; what resources we need to answer development requirements of FAST FASHION; BIG5?
The main issue Bangladesh is having today is with these 2 red-box;
component and tooling
. In each case
(except 'last'; thanks to Step shoe and Sangavi for their brave investments)
the lead time is too long to be a 'developer' country; to be one of the manufacturing source for BIG5.
ANS2: Because, Bangladesh does not have material or tooling network available locally.
Q3. Why Bangladesh does not have material and tooling network available locally?
Well, again there are several reasons for this deficiency. And we can easily start with our prioritized leather footwear industry. I am convinced, having leather footwear industry in Bangladesh gave the country advantage to take sports footwear manufacturing initiatives in many sense except creating it's backward linkage for sports shoes.
'Component network of sports shoes should have been taken care by itself; dependency obviously has proven to be a curse.'
Having a mature & prioritized leather footwear industry influenced the delay to prepare the right conditions for sports footwear clearly. Good news is, Sports footwear started to make its place in Govt. priority list from 2017; long way to go..
The 2nd major reason is more simple to understand but equally complicated to overcome. A loop of frustration; DO YOU KNOW THE TRAP OF POVERTY?
In sports footwear, knowingly or unknowingly, we are living the same. we are into a killer loop of frustration, a loop that does not allow us to break the stereotype and bloom.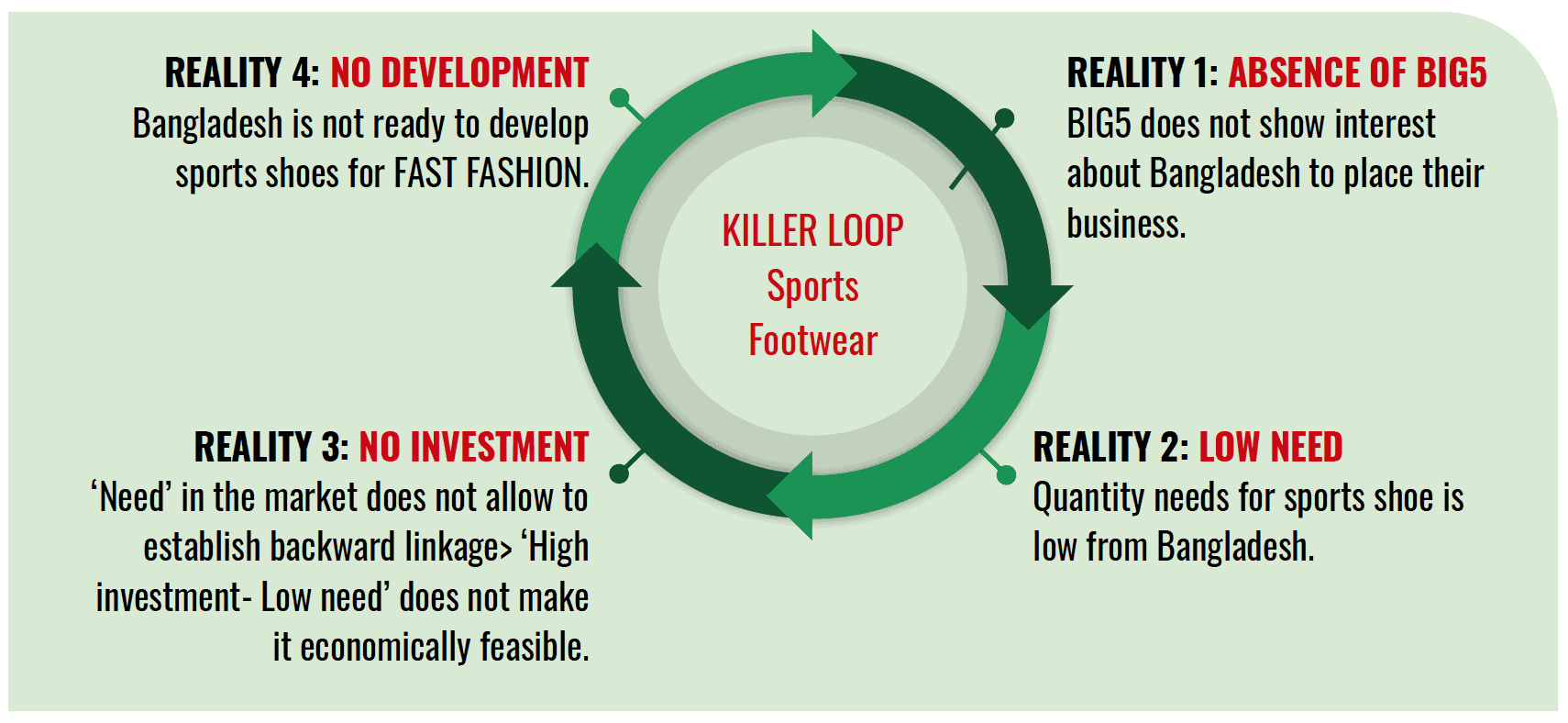 Is not it frustrating? Yet interesting?
I don't think, we need to go for further 'WHY'; we must find a way to break this cycle. How do we do that? How do we do that as an entity? As a country? And above all, as a proud responsible individual in this ecosystem?
(This article is the part of Author's upcoming e-book 'Defining competitive advantage of Bangladesh for Footwear')
Author
Hossain Tawhid Imam
A manufacturing industry passionate working as STRATEGIC INDUSTRIAL BUYER with the responsibility to build and deploy worldwide mid and long-term purchasing strategy for Footwear Industrial Division of DECATHLON.