Life Cycle Analysis (LCA) is one of the most complete and rigorous scientific tools for measuring a product's environmental impact. In other word, A Life Cycle Assessment (LCA) is an analysis of the impact one object has on the world around it.
In the footwear sector, the application of the LCA tool is not yet a common practice; however, it is a technique that is of increasing interest for both brands and manufacturers and also for final consumers. The final value is generally called the product's environmental footprint (PEF).
The Product Life Cycle
In general, the product lifecycle consists of five phases:
5 steps of product life cycle
1.Raw Material Extraction
2.Manufacturing & Processing
3.Transportation
4.Usage & Retail
5.Waste Disposal
There are also other concepts of the product lifecycle.
Cradle-to-gate
Cradle-to-gate only assesses a product until it leaves the factory gates, before it is transported to the consumer. This means cutting out the use anddisposal phase.
Cradle-to-gate analysis can significantly reduce the complexity of an LCA and thus create insights faster, especially about internal processes. Cradle-to-gate assessments are often used for environmental product declarations (EPD).
Cradle-to-grave
Cradle-to-grave" begins with the gathering of raw materials from the earth to create the product, and ends at the point when all materials are returned to the earth.
Cradle-to-cradle
Cradle-to-cradle is a concept often referred to within the Circular Economy.
It is a variation of cradle-to-grave, exchanging the waste stage with a recycling process that makes it reusable for another product, essentially "closing the loop". This is why it is also referred to as closed loop recycling.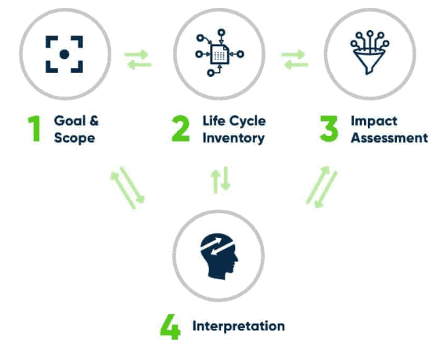 A Life Cycle Assessment Consists Of 4 Steps:
Definition of Goal and Scope
InventoryAnalysis
ImpactAssessment
Interpretation
Phase 1: Definition of Goal and Scope
In the first phase of our Life Cycle Assessment, we define what exactly we want to analyze – and how deep we want to go with our analysis. Defining our goal and scope serves three very important functions:
What will we be assessing?
What system will we be assessing in?
What Will We Not Be Assessing?
Phase 2: Life Cycle Inventory
The goal is to quantify the environmental inputs and outputs – this means we measure everything that flows in and out of the system we defined in phase 1.
What could these inputs and outputs be?
Raw materials or resources
Different types of energy
Water
Emissions to air, land or water by substance
Phase 3: Life Cycle Impact Assessment
In phase 3, we are evaluating how significant the impacts are. This is based on our Life Cycle Inventory flows from phase 2.
There are 3 key tasks in this step.
Task 1: Selection of indicators and models
Task 2: Classification
Task 3: Impact Measurement
Phase 4: Interpretation of our Life Cycle Assessment
According to ISO 14044:2006, this is what the interpretation of a Life Cycle Assessment should include:
Identifying significant issues based on our LCI and LCIA phase
Evaluating the study itself, how complete it is, if it's done sensitively and consistently
Conclusions, limitations, and recommendations
Information Sources:
2.How to communicate sustainability by World Footwear