efore initiating the topic of footwear and the 'S' curve, it's important to go through the memory lane of leather industry of Bangladesh. What has been done so far?
I am sure, we all will agree, the first and 2nd generation of leather and footwear professionals and industrialist have done a spectacular job for the country; and, eventually, when we, the 3rd generation is suppose to understand the pulse of the market, we are at the brink of failing to co-construct our vision to push the industry towards a clear direction.
An industry is playing a strong role in country economy for last six decades. Starting it's venture of leather processing and export from 40's with wet blue. By 1981, policy was adapted aiming to raise the level of value addition in the industry provided the incentive for new private interest in the leather industry. The export of wet blue leather was prohibited from June 1990; and this regulation motivated industrialists to build modern leather tanning units to produce finished leather and later more value added products; i.e, leather goods and especially leather footwear.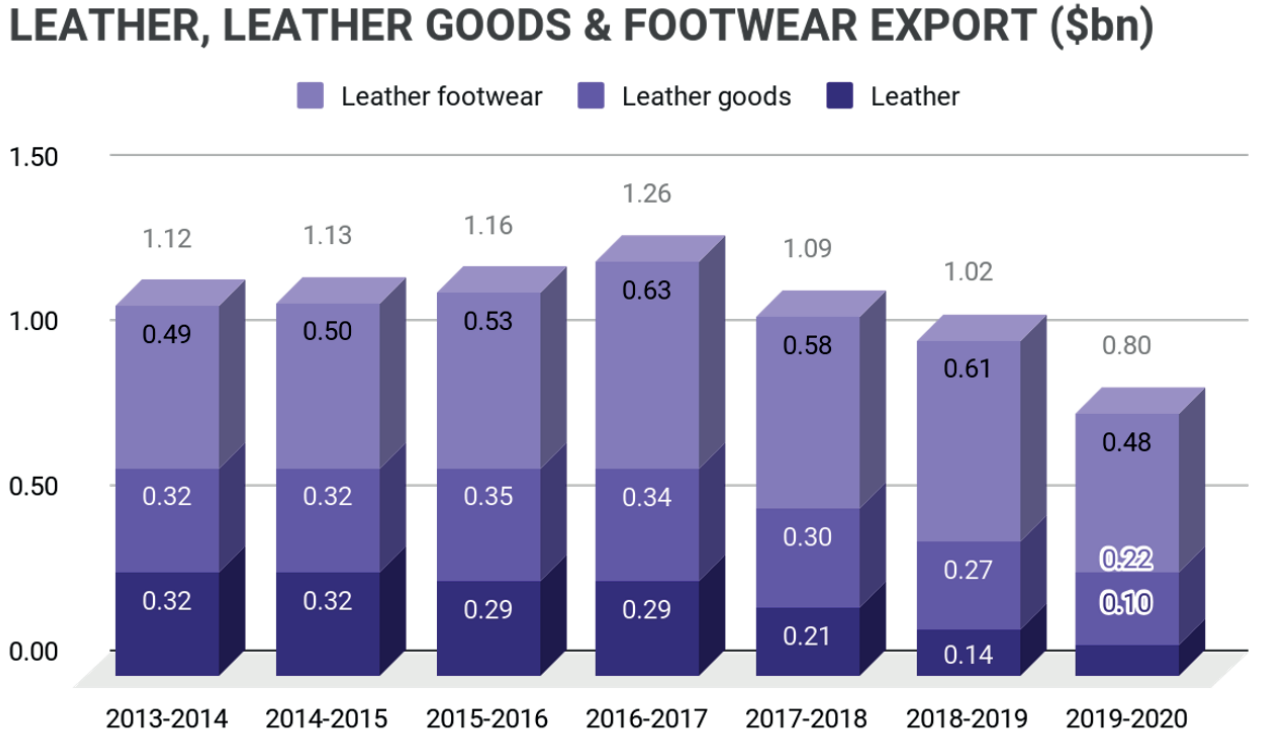 Till 2004, the industry did not justify to its potential with an export value of only $152 million. Leather footwear represented 28% of the fair profit from leather and leather items in 2007-08, while the offer of leather and other leather items were 68% and 4% separately
By 2011-2012, the contribution of the leather industry to the Bangladesh economy was More than US$500 million,
representing 3-4% of nation's export. Recent export trends demonstrate that the footwear sector (value added stock), is becoming the fastest.
Total exports of the leather industry in Bangladesh in fiscal year 2019-20 declined by more than 20%, with drops across all categories. Exception made by exports of 'other footwear'.
NON-LEATHER FOOTWEAR out performed all with a GROWTH in 2019-2020. Is it getting interesting?
Bangladesh govt along with sectoral leaders, define an ambition of export for 2021-2015 considering 2015-2016 as the base year as below, In the export ambition of Bangladesh, dependency on footwear export is more than 65%! Interesting part is,
That's where the problem arrives; if we don't identify the potential of non-leather footwear loud and clear, How to push the right action at right place? Is not it deceiving? Should not we work on the policy specific to non-leather footwear?
IN LAST 10 YEARS,
How many non-leather footwear factories are built compared to leather footwear? How many leather footwear factories have either converted or invested in non-leather footwear facility?
NUMBERS WILL SPEAK IT ALL.
Let's dig into the declining business of leather and leather footwear; This race of extinction is a global issue for leather footwear; it was not invited by the emerging sports footwear in Bangladesh. And I got a theory to share with you but before that, here are the most commonly discussed reasons of leather footwear demand-decline WW,
Fashion & fast fashion:
Trendy, ease of use & comfortable.
Life style:
Fitness and sports has become a part of daily routine.
Price point:
Leather products are way costlier than non-leather.
Competitive market:
Most of the countries are importer as well as exporter
(producer).
Location of production:
Buyers are purchasing more and more 'CLOSER TO MARKET'
Environment:
Leather has a image of polluting environment; is it true?
Is it not wise to adapt with the market shi rather than sticking to traditions? What about a typewriters in 2021? Did not we adapt and embrace the solution of future? A solution accepted widely for the right reason?
WHAT IF WE DECIDED TO STICK TO TYPEWRITERS?
And this is the exact reality we are facing with our leather footwear sector; and we can't fight the natural shift of choices of this modern fast fashion market. An open world where users define the market not the producer any more. Customers are masters in real sense.
Let's talk about a theory fitting into our case of leather and footwear sector. Are you aware of of S-CURVE?
In mature industries (Leather footwear industry?) firms may be at risk of "disruption" as new technologies, products and new business models emerge to satisfy customer needs more effectively (Fast fashion – non-leather footwear?).
Firms that don't "jump" the S-curve may be left behind by those who adopt the new ways of doing things and oering new products as per the need of the market.
The car disrupted the horse and carriage business and digital streaming disrupted music publishing.
If I consider our leather footwear industry as a single unit entity of mature industry and put all our competitor countries as our rival companies, the sad example of Kodak or Nokia fits in perfectly. They had every means to rule the market to stay as leaders; but they were out played by relatively new players as they were,
– Too proud of themselves: We are proud to be competitive
forever!
– Lack of vision: Do we have a vision for our footwear industry;
We live on 'today!'
– Did not know what to do with their 'present product line':
What is our plan with Leather?
– It's always difficult to move an 'elephant': Whole industry
to transform!
Time to take a call, time to decide to be a KODAK or a TESLA, to live in PRIDE OF PAST or SHAPING THE FUTURE?
We need to make a decision quick enough to be in the race, THAT BETTER BE THE RIGHT ONE.