A top footwear manufacturer is setting up a shoe industrial park, the first of its kind in Bangladesh, to supply import substitute raw materials and accessories to producers, boost exports and attract foreign investment. The Bangladesh Investment Development Authority (Bida) gave the permission for the establishment of the Bangladesh Shoe City Ltd in September. Nasir Khan, chairman and managing director of Jennys Group, is the founder of the park.
The Park being set up in Gazipur, would cost around $100 million or BDT 900 crore. Of the sum, Khan's equity is 46% and a global lender will provide rest. It is located over 35 acres of land where 24 factories can be accommodated.
Already 19 companies from Japan, Russia, Italy, China, Portugal, Sri Lanka, and Taiwan have signed memorandum of understanding with Bangladesh Shoe City Ltd to make investments. Also, the park has received investment proposals from foreign investors involving Tk 450 crore and this may go up to Tk 1,000 crore. It will create 26,000 jobs, directly
About Shoe City
The goal of this project is to create a sustainable ecosystem for footwear manufacturing and develop associated secondary and tertiary industries within a central hub like an economic /industrial conclave.
In short, Shoe City aims to be the Silicon Valley of footwear in Bangladesh. Development of the infrastructure required to setup manufacturing plants in scale will be key to this along with necessary support activities. This will allow Bangladesh to continue establishing itself as one of the premier footwear manufacturing hubs in the world.
Infrastructural development
The project will provide end-to-end infrastructure required for the manufacturing of all kinds of footwear, accessories, and garment products, along with the necessary raw and finished materials required for having a total supply chain present, all in one location.
The land has been developed. The construction of the Effluent Treatment Plant (ETP) has been completed and needs to meet some more requirements to obtain the LWG certification. Jennys Group has already set up three factories, including a shoe manufacturing unit.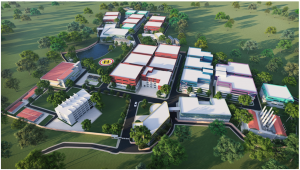 Service Model of Shoe City Ltd
A shared services model will be established to realize this plan. The industrial conclave will host multiple factories each specializing in their choice of footwear products. Global footwear brands are always looking for a stable and dependable source for their products and this zone will aim to host factories that meets their full spectrum of product needs and accessory requirements.
An ecosystem where the full value chain of footwear manufacturing is housed in the same conclave is vital for this. An entrepreneur will have all their requirements met through offerings in this ecosystem.
Photo Source: http://bangladeshshoecity.com/
Shoe City will be ONE-STOP Shop for Footwear Manufacturer
Using a shared services model, factories will be able to pool their resources together for the functions in the existing value chain to run cost-effective manufacturing operations
The gap between manufacturers and suppliers will be mitigated as all the back-linkage industries will be in one central location
By their estimates, production cost of member factories will go down by 20%, making their products very competitive in the world market
Investors can choose which support services they want to source and which ones to out-source from shoe city facilities and can focus mainly on their core competencies
No need for setting up external facilities such as ETP and waste management as it will be developed by BSCL to ensure compliance standards within the industrial zone
Data and Picture Source:
The Daily Star
bangladeshshoecity.com