Stitching is a complex process that allows to join two layers of material by passing through a needle and thread. The seam joining of two or more pieces is accomplished by means of a flexible element (thread, cord, string) that passes through the holes made by a working device (the sewing needle in the case of sewing machines for uppers). The seam maintains the integrity of the joined pieces at various stresses both in the manufacturing process and during the use of the product.
The priority in stitching is to get a durable seam. In addition to strength, the aesthetic of the seam, influenced by fashion and trends, is becoming more and more important. Seam construction involves many elements, all of which are critical to correct functioning of the seam in service. These elements include
– the stitching machine,
– the material being sewn, must be of the correct
specifications for the product
– the size and type of thread, must be correct
– the size and type of needle, must be of the correct size and
type for the product and used at the optimum stitch density.
the material, the number of layers as well as the sewing thread. Material combinations and the characteristics of the different materials are of great importance. Only the right needle size for the occasion ensures undisturbed and high-quality sewing.
For a smooth production process, the right choice of point style is as important as needle size. For the sewing of knitted and other fabrics round and ball points are used in practice. The shoe industry uses the normal round point "R" and the light ball point "S".
The Stitching Machine:
The stitching machine must of course be regularly maintained, and settings adjusted each time they are used for different types of work.
The material used for product
The materials being sewn is very important for stitching management. Correlation between materials used for upper, usage of appropriate needle types and right choice of threads are very important to ensure durable seam. Ideally, broader materials type that we used are Leather, Fabric (both knitted and woven) and artificial leather or synthetics
The size and type of thread
There are different types of threads using widely in footwear and leather goods industry. They have different specification and uses as per need of product.
The size and type of needle:
The choice of needle size depends on
For sewing leather and laminated leather, mostly cutting points but also round points are used. This depends on the number of layers and the consistency of the leather.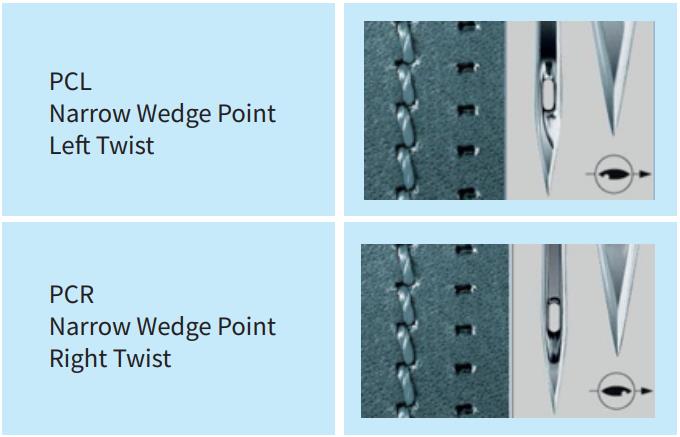 Depending on material structure and number of layers, round or small cutting points should be used for sewing faux leather and laminated faux leather.
Source of Information:
SATRA Bulletin,
Technical Sewing information for Shoes and footwear by SCHMETZ
Dierent stitching manual