Product design is the first step for any new product. A well designed product has always higher possibility to get success in the market. Whether we are a designer, product engineer, developer, product manager, program manager, marketing manager or project manager, it's essential to understand  the product development process in order to create the best work.
In this article I will focus on some main principles & important steps of the Footwear Design process that will help to understand footwear design processes easily.
What is Product Design?
Product design is the process of imagining, creating, and iterating new products by identifying a market opportunity through customer's feedback & future needs, clearly defining  the problems or future needs, developing proper solutions to solve that problems or serving future needs and validating this new solution with real end users in real user condition.

On the whole design process there are three big stage as below-
Pre-Design Stage
Design Stage
Post Design Stage
Pre-Design Stage:
This is the very first step of the product design part & is the base for the new product. That's why this step is very important. I will try to explain some important steps of this stage as below-
User Brief: Before starting any new product design it's very important to collect feedback from end users about current problems, what is good, what is not good. At the same time it needs to collect the end user's future needs.
Bench/Market Analysis: Each day new competitors are coming into the market with their new concepts or marketing strategy that's why it's very important to do a market analysis before launching any new product design for any market. End users need & choice differ from place to place, custom to custom, culture to culture and season to season. So the new product must have to solve problems of the previous product at the same time it has to serve the needs of future following trends.
Both user brief & market analysis is led by Product Manager.
Product Brief: Based on end users feedbacks & future needs and following current bench/market analysis product manager need to build a SMART product brief for the project team. This is very important that the project team well understand all the points of product brief and clarify all the doubts through question & answer. At the same time it is important to challenge the product brief to define the right level of value addition on a new product. For a successful product design- product brief is the base that's it's very important that all project team members have the same level of understanding about product brief.
A successful product brief requires a perfect combination of product Affordability, Desirability & Feasibility.
Visual Brief: It's a visual transformation of a product brief by the designer. Through this visual brief we can easily imagine end users' nature, lifestyle & their needs. At the same we can get a visual demonstration about product criteria with available bench.
Design Stage:
This stage is the heart of the product design process. In this stage we can see real evaluation of new product design through designer's imagination & creativity. Below are some principle steps of this stage-
Shoe Last: Footwear main design process starts with shoe last. Shoe last is not only responsible for fitting but also responsible for shoe shape & aesthetic look. A right last only can bring good looking & well fitted shoes for the end users. So Last should always be First.
Design Sketch: This is the very first output by the designer based on inputs from the pre design stage & following shoe last. In this stage there can be several proposals from designers with different concepts. Project team can choose 1 or 2 options from among all following product benefits & end users need. After that it is very important to make a feasibility study for these very first sketches by a product engineer. Following the results of the feasibility study project team need to choose a final sketch for the next evaluation of design.
Design Techpack: Design techpack is the complete design mentioning all product details. This file must contain all technical details as well as cosmetic details both for upper & sole. This is almost the final design if there is no very big impact from the post design stage. This is the principle input for Product Engineers to bring this drawing into reality.
Color Pack: Color is very important for the success of the products as 80% end users purchase products only for the color preference. For product color packs it's important to keep some safe & basic color at the same time it's important to choose some color following the season trends. Normally color packs are done by the Color & Trend Designer following design techpack.
Post Design Stage:
Though it's called the post design stage but the principle steps of this stage have a big impact on the main design stage. There can be some modification or evaluation of Design techpack based on the result from this stage. I try to explain some main steps from this stage-
Product 3D: If we want to move faster with accuracy on footwear product design process product 3D has a big influence on it. Before we start moving to the product realisation process it's very important to transform 2D techpack into product 3D with more precise details. For footwear it is more important as there are several parts of shoe with very small tolerance. Specially for the sole part 3D is very important as it's linked with correct sole mold. Only a good 3D can help us to get a good quality sole with very good design precision.
Component: Component & Compound selection is one of the fundamental steps of product design. Most of the product benefits and aesthetic values of the product depend on right component & compound choice. Right & beautiful component can enhance product value even with a very simple construction.
Pattern: Pattern making is a very important step for the footwear design process. Nowadays with the help of different 3D & 2D software it's become easier & faster. We can easily transform 3D design into 2D pattern files which is very fast & accurate. There can be some minor modification required only due to the footwear manufacturing process.
Prototype: A complete footwear design process required several prototypes during different stages. It's very important to test all the prototypes in every stage with the help of end users in real usages condition. The process of rapid prototyping can be presented as a cycle with three stages:
Prototyping
Creating a solution that can be reviewed and tested.
Reviewing
Giving your prototype to users and stakeholders and gathering feedback that helps you understand what's working well and what isn't.
Refining
Based on feedback, identify areas that need to be refined or clarified. The list of refinements will form the scope of work for your next design iteration.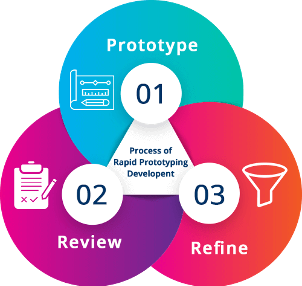 Testing & Validation: The testing and validation phase helps a product team ensure the design concept works as intended. Some tests need to be done on Lab & some on real field. Some specific tests linked with product benefits need to be validated both in the lab & real field with end users. Some quick product tests can be done with available resources within the project team. Testing condition is also very important when products are being tested with end users. For each validation test specific & precise test protocol is a prerequisite.
During each & every step of product design we need to keep in mind about the end users. Success of the product design will depend on the satisfaction of end users as we design products for end users. Product design can change the fortunes of companies, good design helped establish companies while bad or stagnant design destroyed the company. Good product design is the single greatest asset any company can wish for. A good product design can not only enhance the competitiveness of the company but it can also capture a major share of the market.
NURUL HUDA KHAN
Footwear Product Engineer